PlatformLED USA
– open LED screen trailer.
PlatformLED is a LED screen trailer based on a platform. The screen is mounted on a hydraulic frame. Lifting and rotating capabilities provide massive advantages over traditional solutions.
Things you need to know about PlatformLED.
Versatile mobile LED wall that offers plenty of features. Explore some of the key benefits of our solutions.
Year warranty.
Applies to trailers as well as screens purchased from Screen-LED. Warranty service in our warehouse or at client's office (additional fee).
US DOT and EU road approved
Every trailer comes with all paperwork necessary for registration. We also register our trailers in the US.
Weeks to build the trailer.
We offer very short production time. Starting from February 2020, we will have LED screens at stock. That'll allow us to build trailers with screens even in 4 weeks!
A classic example of a LED screen trailer.
Initially, when the idea to build a mobile LED screen emerged, PlatformLED was our first product. The simplest way to put your screen on wheels. Unmatched flexibility and unlimited screen position settings.
The most popular product in Europe.
The bestseller among our screens in Europe. Designed with simplicity in mind. As a result, all necessary features are packed in a compact form.
The main advantages of PlatformLED USA.
PlatformLED will drastically shorten the screen preparation time during every event, allowing you to focus your attention on eveything else that makes your event special
Unlimited possibilities to set the screen position.
Orient your screen in any desired position. You can then freely adjust it during the event. If needed, easily move your Platform within the venue.
The compact construction of the trailer.
Use it wherever you can drive it. Thanks to the open form, PlatformLED is only using as much space as necessary. As a result, it is easy to store in confined areas.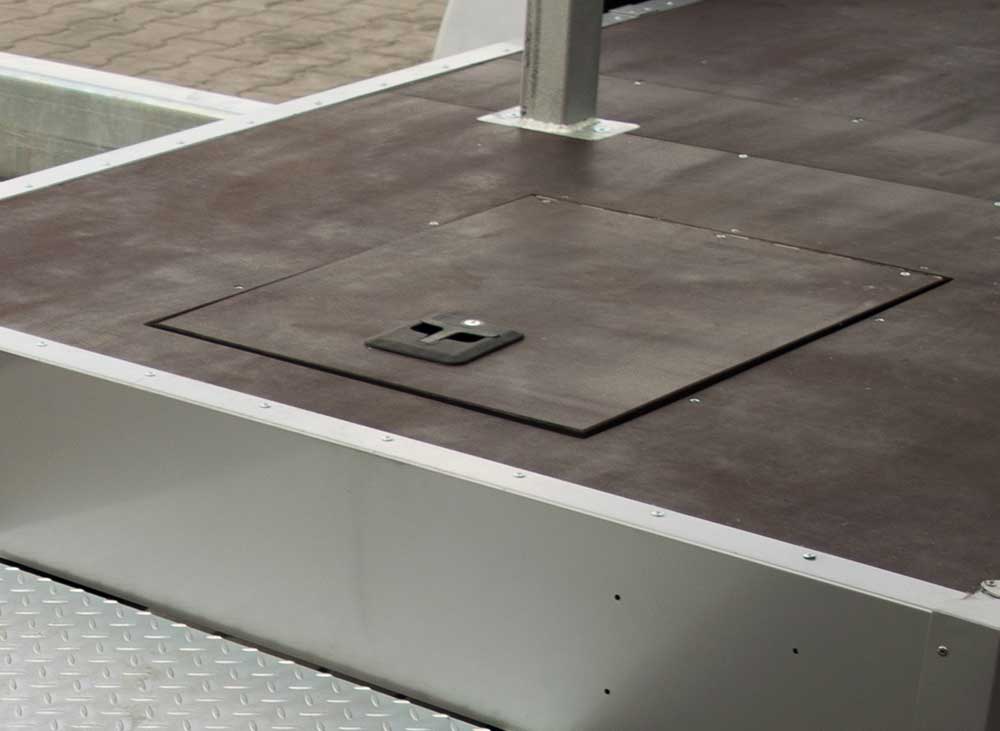 Storage shelves for video equipment in the floor.
You usually set up your screen in crowded areas. Sometimes it is hard to keep an eye on your stuff. Now you can keep your valuable video equipment concealed inside the trailer.
Tilt the screen to secure it for transportation.
Worry-free transport in any weather conditions. Furthermore, we can put your logo on the cover for better brand awareness.
We can install your LED screen on the trailer!
Already got your own screen. PlatformLED, as well as MobiLED, can be designed to perfectly match your screen. Another big advantage is that you can actively participate in the design process.
Possible LED screen sizes and technical information.
Need a specific screen?
Various configurations allow you to choose the trailer, that will perfectly fit your needs.
Screen size:
Screen area: up to 339 sqft
Screen width: up to 22 ft
Screen height: up to 14.76 ft
Trailer weight range:
up to 10 100 lbs
Trailer width:
7.2 ft
Trailer lenght:
up to 30 ft
+ about 5,6 ft drawbar
How big is the largest PlatformLED?
Numbers don't work on your imagination like technical drawings.
See the size of the largest screen possible compared to a 6 feet tall person.
What clients say about us?
"By adding the ScreenLED trailer to our rental fleet we have had tremendous uptake from our customers. The speed of deployment and large 28sqm size make it an easy sell. We are very pleased with our partnership with ScreenLED and intend to add more mobile LED screens in 2020."
Get in touch with a sales representative!
PlatformLED's in North America.
Some of PlatformLED's around the world.