ContainerLED

– the largest mobile LED screen in a self-loading container

A huge LED screen that is easy to use. You can have a screen size of 43′ x 23′ ready to work in 25 minutes. Thanks to the advanced hydraulics and the unloading system without a crane, 2 people are enough to handle the event.

Ask for details
Possible LED screen sizes and technical information.
You can choose one of the ContainerLED models or order the product strictly according to your needs.
Screen width:

up to 43' (13 m)

Screen height:

up to 23' (7 m)

Weight range:

up to 35000 lb (15876 kg)

Container lenght:

up to 44' (13.5 m)

Container width:

8' (2.54 m)
What do you should know about
ContainerLED
The functionality of
the largest mobile LED screen
ContainerLED is designed to provide the public with a great visual experience and the ease of use for technicians. Moreover, these units are constantly developing. Every year we improve them. Below, you can check out some of the features that are available in containers.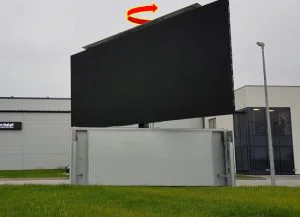 Hydraulic lifting and 360° rotation
In a simple way, you can adjust the position of the screen as you like. You can rotate the screen even if it's turned on. The maximum height from the ground to the top of the screen is up to 34′.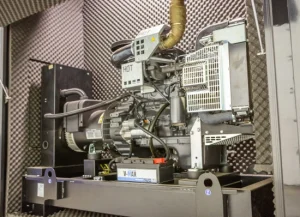 Power generator option
Thanks to the generator set, you can use ContainerLED in all conditions. The generator will provide the ability to unload, unfold and use the screen. Now you can use the screen in places without electricity.
The main advantages of
ContainerLED
Static calculations on request.
We offer additional static calculations to ensure the safety of our designs. Each trailer is designed to withstand wind gusts of up to 45 mph.
Wind sensor with alarm
A wind sensor with an alarm will inform you if the wind is approaching the endurance limit of the structure. Thanks to this, you will be able to fold the screen against any fault.
Unfolding by remote controller
The wireless remote control makes controlling ContainerLED much easier. There are 16 functions, thanks to which you can easily unload the container from the truck and unfold the screen. The remote control makes the operation very simple.
19" rack shelf for video equipment
You can safely install your AV equipment in a standard 19" rack. Now you do not have to connect and set the screen every event, because you have a comprehensive solution ready.
Fully adapted to US standards
All the technical specifications and every element of ContainerLED conform to US standards. You will receive a fully American product.
Stability in any conditions
ContainerLED is stabilized via four hydraulic legs. Moreover, for the less stable surface, we provide pads to better distribute the load.
Check the ContainerLED photos
See the largest mobile LED screen in practice. It cannot be denied that such a large screen is impressive.
Check ContainerLED gallery
See how easy it is to handle ContainerLED
We strive to make each of our products childishly simple. See what it looks like preparing ContainerLED to work.
What clients say about us?
By adding the ScreenLED trailer to our rental fleet we have had tremendous uptake from our customers. The speed of deployment and large 28sqm size make it an easy sell. We are very pleased with our partnership with ScreenLED and intend to add more mobile LED screens in 2020.

Cal McCarthy

CEO, SW Event Technology, CANADA
Compare the
ContainerLED

models
Model
SLC45
SLC63
CUSTOM
Product type
enclosed container
enclosed container
enclosed container
Container type
BDF
BDF
BDF
Screen size
30' x 16'
9 x 5 m
34' x 20'
10.5 x 6 m
39' x 40' or 43' x 23'
10.5 x 6 m or 13 x 7 m
Screen resolution
with P3.9 screen
2304 x 1280 px
2688 x 1536 px
3072 x 1536 px for 39' x 20'
3328 x 1792 px for 43' x 23'
Screen resolution
with P4.6 screen
1944 x 1080 px
2268 x 1296 px
2592 x 1296 px for 39' x 20'
2808 x 1512 px for 43' x 23'
Possibility to install your screen
Screen rotation
360°
360°
360°
Screen wings
(container with this is shorter)
Container width
8'
2.5 m
8'
2.5 m
8'
2.5 m
Container lenght
23'
7.3 m
26'
7.8 m
up to 45'
13.5 m
Maximum screen height
(from ground to top)
27'
8.35 m
30'
9.25 m
34'
10.5 m
Container weight
up to 35000 lb
16000 kg
up to 35000 lb
16000 kg
up to 35000 lb
16000 kg
Wind sensor with alarm
Remote controller
Power
Std Cam Locks
Std Cam Locks
custom
Power generator

additional fee

additional fee

additional fee
Wind rating
45 mph
72 km/h
45 mph
72 km/h
45 mph
72 km/h
IP rating
IP65
fully waterproof
IP65
fully waterproof
IP65
fully waterproof
US DOT road approval
Warranty
2 Year
2 Year
2 Year
Product configurator
Do you want to get an answer faster?
Check out our product configurator.
Get in touch with a sales representative!